July 10, 2019
Droid4X Android Emulator for PC, Mac
Android emulators are software that can emulate the interface of an android device on PCs. As a result of rapidly increasing popularity of Android games and applications on mobile environments such as smart phones and tablets, there are increasing demand and supply for these kinds of emulators that can emulate Android on PC platforms such as Windows and Mac OS.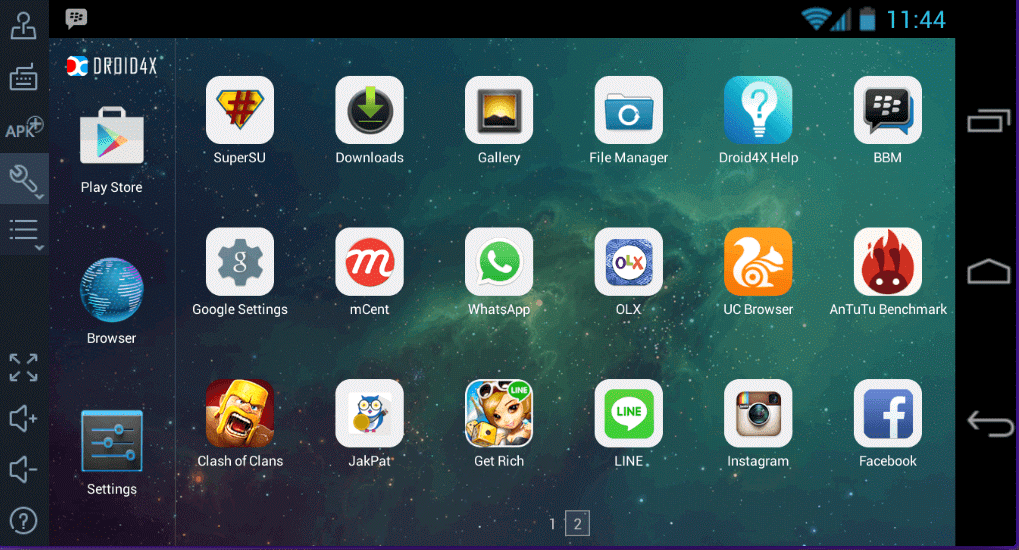 Droid4X Android Emulator is one of them that allows you to emulate and use Android on your desktop or laptop. A simple to use program, it easily lets you take advantage of a number of things Android mobile platform offers. Emulating Android's Arm processors, Droid4X turns your PC into a tablet or smart phone in an easy and free way.
Apart from enjoying a huge number of Android games, you can also use endless number of Android apps, browse on the web, have GPS (custom location), and dive into the rich world of Google Play. For this, you need to sign in with your Google account. Installing apk files are possible through drag and drop method and browser download, too. Thanks to Droid4X Android Emulator, you can also control your smart phone or tablet remotely from your PC.
It is very easy to use Droid4X; you don't even need instructions to follow to understand how to use it. It is free and offers offline and online download opportunities for different scenarios. You can use it on full screen mode and experience your favorite games on a bigger screen with more fun. Custom screen adjustment is also possible; you can modify ppi or resolution to take the best results with your favorite games. Droid4X Android Emulator also lets you exchange files and folders between your device and the emulator in an easy way unlike many other of its competition. You can also take screen shots and recorded videos of your screen to share with friends.
It supports touch screens as well as letting you control with your keyboard and mouse. You can assign virtual controls on your keyboard for the desired part of the screen. You can also use a physical Android device as the controller of your emulator screen. It can be said Droid4X is mainly designed for gaming rather than a full Android experience. Lots of features target gamers and gaming experience above others.
In terms of use of computer resources, you can choose the number of virtualized processors and reserved amount of memory (RAM). This way, you can make the desired configurations according to your computer's hardware condition.
It can be used on any Windows version even with Windows XP. Net Framework
Direct X, Microsoft Visual C++ Redistributable Package's (2008,2010,2013) constitute other software requirements.
Minimums OSs for macOS are 10.10 (for Yosemite), 10.11 (for El Capitan), 10.12 (for Sierra). If Apple's security blocks the installation because of unsigned certificate,  go to Settings -> Apps -> Droid4X icon -> Click "Trust this app".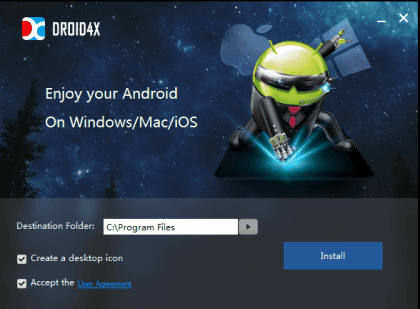 Hardware Requirements for Droid4x are as follows:
Advised Requirements:
4GB Ram for best experience
Dedicated Graphics Card (At least 1GB)
64Bit System
Minimum Requirements:
A Dual Core CPU supporting virtualization technology
32bit/64bit System
1GB Ram
Graphics Chipset/Graphics Card supporting at least Open GL 2.0
Current version of Droid4x Android Emulator is 0.9.0. It emulates Android 4.2.2 Kit Kat, one of the most used versions of Android most people are familiar with.
Lastly, there are some articles and videos on the internet claiming Droid4X can also be used in iOS 7 and above and it emulates Android on iOS. However these seem fake news for now.
Overall, Droid4X Android Emulator, which use VirtualBox, is a simple to use, free, gaming-focused Android emulator and worth trying for those who are in need of such an emulator.