June 20, 2019
Remix OS Player by Jide (formed by ex Google employees), which was launched in 2016, is an outstanding Android emulator for Windows. Unlike Remix OS by the same company, which is a primary standalone OS  for desktops and notebooks (there are some devices that comes with it or you can use it via a usb flash drive), Remix OS Player is an emulator that is installed on Windows with an executable file and run just like a program that let you use Android apps and play Android games along with your Windows programs.
Main advantage of Remix OS Player is that it comes with Android Marshmallow supporting Android's latest innovations and features. This is a big advantage because most other Android emulators out there provide an Android Kit Kat experience. Remix OS Player is free and unlike Bluestacks, which is the most popular and known emulator in the market, has a very plain and clean interface. Currently, it can be used on Windows devices but according to the official announcements, it will soon be available for Mac PCs, either. AMD processors are also not supported. If you have a device with AMD processors, you should consider trying other emulator alternatives. Before using Remix OS player, you should enable BIOS Virtualization settings and set up  Intel XHAM.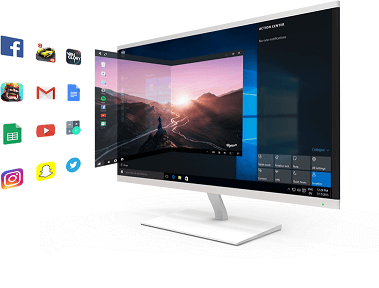 Installation of Remix OS Player
Click on the link to download Remix OS Player. http://www.jide.com/remixos-player
It is about 700 megabytes but you can download it via a torrent client, too, which makes it faster. Run the executable file, extract to the location you like and click OK.
After the extraction process, you will see the settings screen. Check the Advanced Settings and you'll see some options just below.
Choose the CPU number. We recommend choosing the half of what your computer has because Windows need them, too; so otherwise you may experience performance problems. For the RAM, do the same. As for resolution hd ready resolution which is (1280×720) would be sufficient.
Click on Start and it will run after some preparation.
Recommended System Requirements are a bit high. It needs a much better system than Remix OS does because it runs on Windows. If you have an old PC that you want to turn into an Android device, you should go with Remix OS without Windows. Remix OS is a great solution for these kinds of devices considering that today you can do almost everything on Android.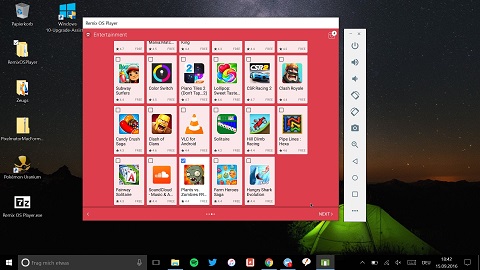 System Requirements
Windows 7 (64-bit) or more
Core i3 (i5 or i7 recommended) AMD chipsets not supported
4 GBs of RAM
8 GB Storage (16 Gb recommended)
Enable VT in Bios ( Youtube tutorial for this https://www.youtube.com/watch?v=-5UMK6l0a6A&feature=youtu.be)
If you have a PC with these features, you can get a good performance with all Android Games and applications via Remix OS Player. Since it is based on latest Android version, latest games and apps are all supported. Since it makes use of Android Studio technology is based on Android x86 project it makes it possible to live a smooth and fun game experience and has a good performance so long as you have a below the average system.
Remix OS Player lets you play multiple games at the same time. It has great multi tasking features supported by Android Marshmallow beside all other features most emulators have. You can map unlimited buttons and they are saved and remembered, which is a cool feature. Thanks to button mashing, you can be ahead of your rivals in your favorite Android game.  Since Remix is optimized for gaming and targets gamers, it is one of the best emulators for gaming purposes.
It also has Google Play support (needs a very easy activation) apart from its own Remix Central market (It has some apps that are not included in Google's app store). After logging in, you can download any game or app you want. You can browse apps via the Jide logo on the left bottom. It has a UI similar to Windows' and you can move Android apps like moving windows. You can check notifications, too from the bottom right easily. Remix is rich in terms of its support for customization preferences, so you can make changes for your taste.
During the installation you need to go with either English or Chinese, but you can choose your language from the language settings of Android.
Overall, Remix OS player is a good Android emulator. Since it has the latest Android version, it will probably be preferred by more people in the feature. But the biggest disadvantage is its lack of support for Mac and AMD not to mention 32 bit Windows computers.