November 16, 2018
MagicEngine is a PC-Engine Console Emulator.
The PC-Engine – also known as the TurboGrafx-16 in the USA, was a nice little machine made by NEC. The first model came out in 1987 followed one year later by a CD extension that made the PC-Engine the first console to have CD games.
This was quite an impressive machine, with good graphic capacities (16-bit video processor, 512 colors, 64 sprites) and a fast and powerful 8-bit CPU. It also had a very good game collection, with unique and high quality games. And even today some PC-Engine games are still without an equivalent on modern consoles. Of course if you only enjoy 3-D games, well, the PC-Engine may disappoint you a bit, but if you love good old 2-D games, especially shoot'em up, give it a try, it really.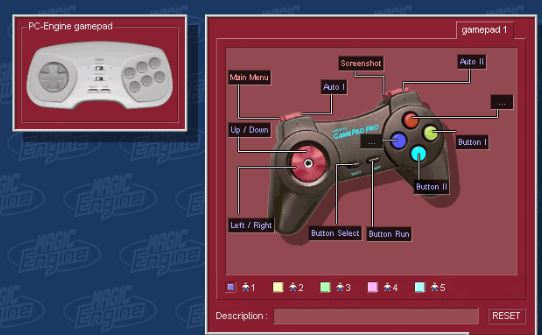 Go find those PC-Engine CD-ROMs that you stored in a cupboard a few years ago, remove the dust on them, and go downloading MagicEngine!
And don't forget to register after.
MagicEngine emulates the PC-Engine almost perfectly. The emulator has:full HuCard emulation!
full SuperGrafx emulation!
full CD-ROM and Super CD-ROM emulation!
(with a custom System Card – no BIOS ROM needed)
full Arcade Card emulation!
very accurate and fast emulation!
game save/load feature!
nice and easy to use graphical user interface!
five players mode – fully configurable!
and it's actually available for three operating systems, namely:CD-ROM :
Mac OSX, using OpenGL
Algunos

Art of Fighting

Babel

Bomberman Panic Bomber

Burai

Cal III

Conan the Future Boy

Cosmic Fantasy

Davis Cup Tennis

Dynastic Hero

F1 Circus Special

Fatal Fury 2

Formation Soccer 95

Gotzendiener

Gulliver Boy

Human Sports Festival

Implode

Kabuki Itoryudan

Kagamai no Kuni no Legend

L-Dis

Lady Phantom

Legion

Magicoal

Mahjong Lemon Angel

Mine Sweeper

Monster Maker

Princess Maker 2

Pro Yakyuu Super

PuyoPuyo CD

Red Alert

Road Spirits

Solid Force

Sotsugyou II Neo Generation

Sotsugyou Shashin Miki

Sugoroku '92 Nari Tore Nariagari Trendy

Tenchi Muyo!

Tecmo World Cup Super Soccer

Tengei Makyu Kabuki Den

Valis IV The Fantasm Soldier

Ys III Wanderers from Ys
does it play Arcade Card CD games too?
Yes, it plays Arcade Card CD-ROMs, all of them.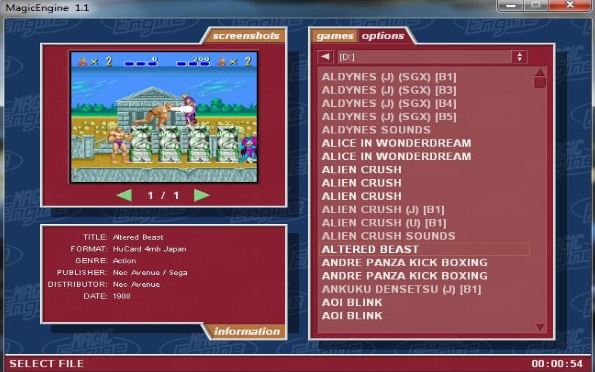 in some CD games there's no music, or no sound effects, what can I do?
This happens sometimes when using Magic System to play CD games – all the sound functions haven't been fully implemented yet. But you can work around this problem by using the original System Card ROM instead, just copy this ROM (SYSCARD3.PCE) in MagicEngine directory, the emulator will detect it automaticaly and use it instead of Magic System.
CD game 'xxxx' doesn't work, can I do something?
Did you try to run this game using the System Card ROM (SYSCARD3.PCE)? A few CD games don't work if you run them with Magic System. The opposite can also be true, some games run only with Magic System. Be sure to always try the two different systems (in v1.00 click on the little down arrow in the 'boot cd' menu to change the CD system). If nothing work then may be this game isn't correctly emulated by MagicEngine, in such a case feel free to report the problem to us, we will try to fix it.
how to make MagicEngine use another CD-ROM drive?
If you are using version 1.0 of MagicEngine you can directly change the CD-ROM drive from the GUI, in the 'boot cd' menu, but if you are using an older version you will need to change the 'drive' option in the pce.ini file (0 = first CD-ROM drive, 1 = second, etc…), or if your PC is running Windows 2000 or XP you can also change the 'drive_letter' option, simply set it to the letter of your CD-ROM drive (D:, E:, etc…).
does it works with Windows XP?
Yes, it works well with Windows XP.
If you encounter graphics slowdown or graphics glitches change the video driver. By default MagicEngine uses DirectX but some video cards work better with OpenGL. To change the video driver double-click on the pce.ini file, look for the 'driver' option, change it and save the file.