April 5, 2019
AMIDuOS – Android Emulator for Windows
Would you like to be a part of a full Android experience on your Windows 7/8/10 desktop, laptop or tablet? AMIDuOS could be the perfect solution. Possibly the best Android emulator by far comes from American Megatrends, whose name we know from its bioses; and it is called AMIduOS. AMIDuOS is a great Android emulator for those who want to test and use Android applications on their Windows devices such as Windows desktops, laptos or tablets.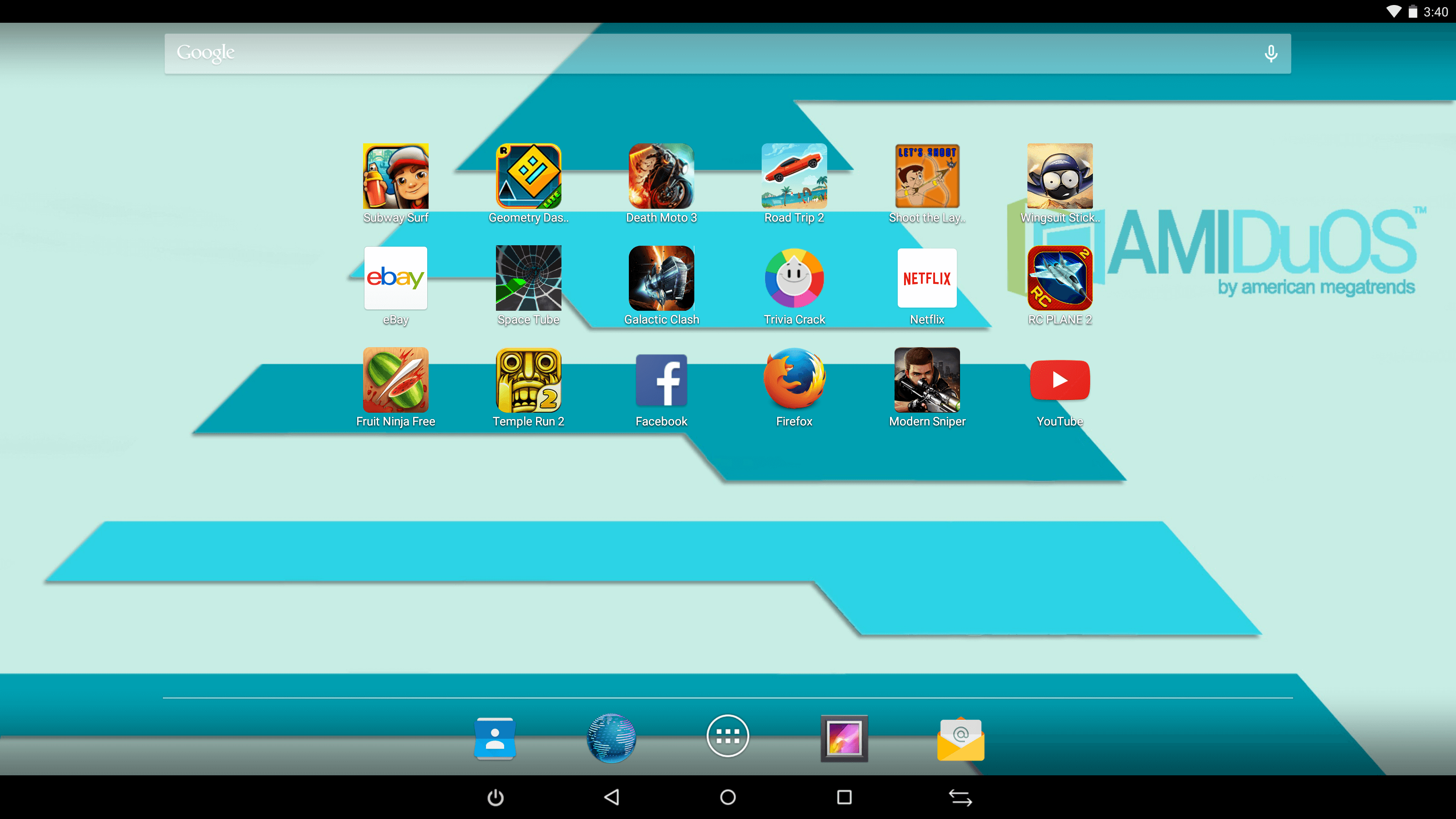 AMIDuOS does not require dual-boot so you can switch between the operating systems swiftly without a need to close one of them. You are able to use Android in a windowed or fullscreen mode (allowing you to use your big screen wholly) and switch between Android and Windows via Alt-Tab. Moreover, since AMIDuOs has access to media in your Windows' pictures, video and music folders, you don't need to deal with complicated configurations to reach your files. With this kind of a file sharing you can, for example, use a photo from your Windows Pictures folder as your home screen background in Android. On the configuration tool, show the path once and that's it! You can even copy and paste between the two operating systems thanks to AMIDuoS. AMIDuOS also supports SD card emulation and lets you configure the SD card size with its easy-to-use configuration tool.
With AMIDuOS, you have also root access at hand; you can switch it on/off on settings. We are so accustomed to using Android in our daily lives that it is even greater to use it on a Windows device. It operates virtually with no problem and touch performance is excellent. It recognizes the Wifi connection of the PC instantly and uses it efficiently, whether it is Ethernet or Wi-fi.
AMIDuOS can run almost all Android applications available in Android app markets. It comes with Amazon App Store by default, but installing Google Play Store is also quite easy. With the AMIDuOS package installer you can install any app markets beside Google Play Store. For the Google Play, for example, right click on it and click "Apply to DuOS.". After a restart, Google Play Store is going to be loaded on your system. Now you can sign in to your Google account and do what you want to do just like on an Android tablet or smart phone. On their website, AMI offers support articles on this matter, either.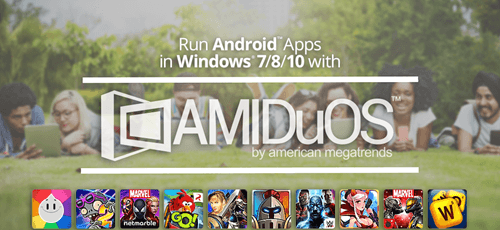 AMI makes these kinds of stuff quite easy compared to its competition. Readers who have some experience with emulators will understand what I mean. These processes can be very complicated and frustrating on some other emulators and yield negative results despite all the efforts. AMIDuOS Lite Edition costs €9 and operates Android Jellybean while Pro version costs €14 and operates Lollipop and Jellybean. You can try it free for 30 days. There are free emulator alternatives like BlueStacks and Andy but AMIDuOs could be worth a € 14 for a lifetime license.
Installation of AMIDuOS is quite easy though not as easy as the installation of Bluestacks. The installer, first, checks whether your system meets the minimum requirements.
By the way, system requirements for AMIDuOS is as follows: Intel x86 processor; Windows 7, 8, or 8.1; OpenGL 3.0 or higher (which comes with your graphics card driver); hardware virtualization technology (VT) enabled in the BIOS; 2GB of RAM (4GB recommended); and 2GB of free hard drive space. AMIDuOS offers a full Android experience complete with touching sounds and widgets, grouping apps to all kinds of customizations and more. You can see notifications in the notification bar, use all touch features and interact just like with an Android device. AMIDuOS can be used with a Mouse, trackpad or keyboard though it works best with a touch screen.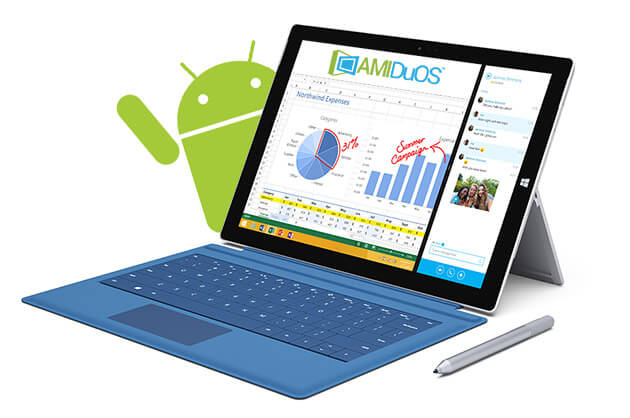 AMIDuOS use hardware smartly. It runs Android applications in native x86-mode and emulates ARM processsors only when there is need. This provides huge performance benefits such as saving power and extending battery life to the fullest. Since AMIDuOS is also ARM v7 compatible, it can run most popular ARM applications as well. Both applications and games launch quickly and run smoothly in AMIDuOS. AMIDuOS supports 3D acceleration, thus you can enjoy a greater Android gaming experience in Windows. It makes use of Windows OpenGL drivers for improved frame rates to support even the most graphics-intensive games. Especially on a touch screen device results are great. You can also play many games that require just tap or swipe with mouse clicks or movements as well as pressing keyboard buttons.
In terms of configurability, you can allocate an amount of RAM for the emulator's use and free up internal application memory. Furthermore it has a root mode which enables you to try various customizations. You can emulate an Android device and switch between front and back camera. You can sideload and try apps that is not on the Google Play Store. For this right click on the app and select "Apply to DuOS."
With its various configuration possibilities and great performance, AMIDuOS is one of the best Android emulators and it is getting better with new updates.
AMIDuOS provides a complete Android tablet experience with multi touch and gesture support like Pinch and Zoom beside full-featured software keyboard. It also supports Compass and GPS functionality, allowing map navigation by multi-touch. While AMIDuOS make use of device drivers from Windows in order to provide near-native performance in Android, it also supports key peripherals and sensors of the Windows hardware, including high-definition cameras, microphone and audio. AMIDuOS' sensor support includes Ambient Light, Accelerometer, Gyrometer, Compass and Orientation making your Android experience complete.
If you need to use Android on a Windows device regularly, AMIDuOS can pay up the lifetime 9 or 14 euro investment you may make.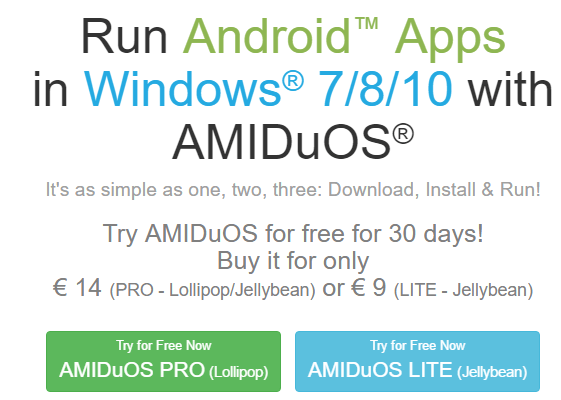 Installing DuOS