April 14, 2019
KOPLAYER Android Emulator for PC
There are many Android emulators alternatives on the market, and Koplayer is another Android emulator that mainly targets Android gamers who want to play their favorite mobile games on their desktop PCs and notebooks. Created by Chinese Koplayer Inc. in 2016, KOPLAYER, with a motto "Play Bigger, Play Smarter", provides a smooth gaming and application experience on both Windows and Mac for users all around the world.
Koplayer, after a pretty quick and very easy installation, provides quick access to Android apps and games at the comfort of your personal computer.
It lets you open more than one, simultaneous Android sessions online thanks to its Multi-Manager feature, thus you are able to play two different games at the same time, which is a feature most Android emulators lack. You can also copy your customize a session if you like, so you won't need to make reconfigurations at every future instance
After the installation, which is as simple as setting up any Windows program, you may choose 'speed mode' or the 'normal mode' before getting started with the Ko-player emulator. You will also see short tutorials to guide you, which will make the process even easier. On the setting part of the emulator, you may find lots of options and preferences to give it better performance depending on the hardware of your personal computer. For example you may assign dual or quad CPUs as you may like.
Ko Player, which supports 1280×720 ve 1024×600 pixels adaptive screen resolutions, offers a crisp display on bigger computers and provides a fun gaming experience. Zooming is possible, too; you can use Ctrl+mouse wheel to zoom the screen.
It has features such as video memory configuration, pre-configured shortcuts (A: Home: the home button Esc: the return button F1: the menu button F4: the sleep button to put out the screen Ctrl+F11: full screen/ exit full screen), GPS etc. It also comes pre-rooted so you can take advantage of root user privileges.
You can activate the keyboard mode for touch-based games and assign various buttons for controls so you can play lots of games with your keyboard without encountering any problems (called keyboard mapping). You can also add a gamepad for a more fun gaming experience. Touch screen is not supported yet but it is said to come with later updates in the future. It supports a big majority of the games and apps on the Android Market aka Google Play, which comes preloaded with the emulator so you can directly download games and apps from the Play Store, as well. Just like in Android smart phones and tablets, you need to create or sign in to a Google account before starting to use Google apps one of which is Google Play.
On the left side, there are also buttons for recording the videos of your sessions and game-play easily (KOPLAYER saves these videos to your local PC not to the Android file system). Moreover you can also take snapshots of your emulator's screen for uploading and sharing purposes and share with you recorded footages at Facebook, YouTube and other platforms in seconds. On this toolbar left-hand, you can also set up a boss key for privacy.
Koplayer offers a simple folder sharing opportunity that enables you to transfer files between your PC and the virtual device. For this click "Shared Folder", point the program at a PC folder you prefer, and it will be available in the Android file manager CyanogenMod, right away.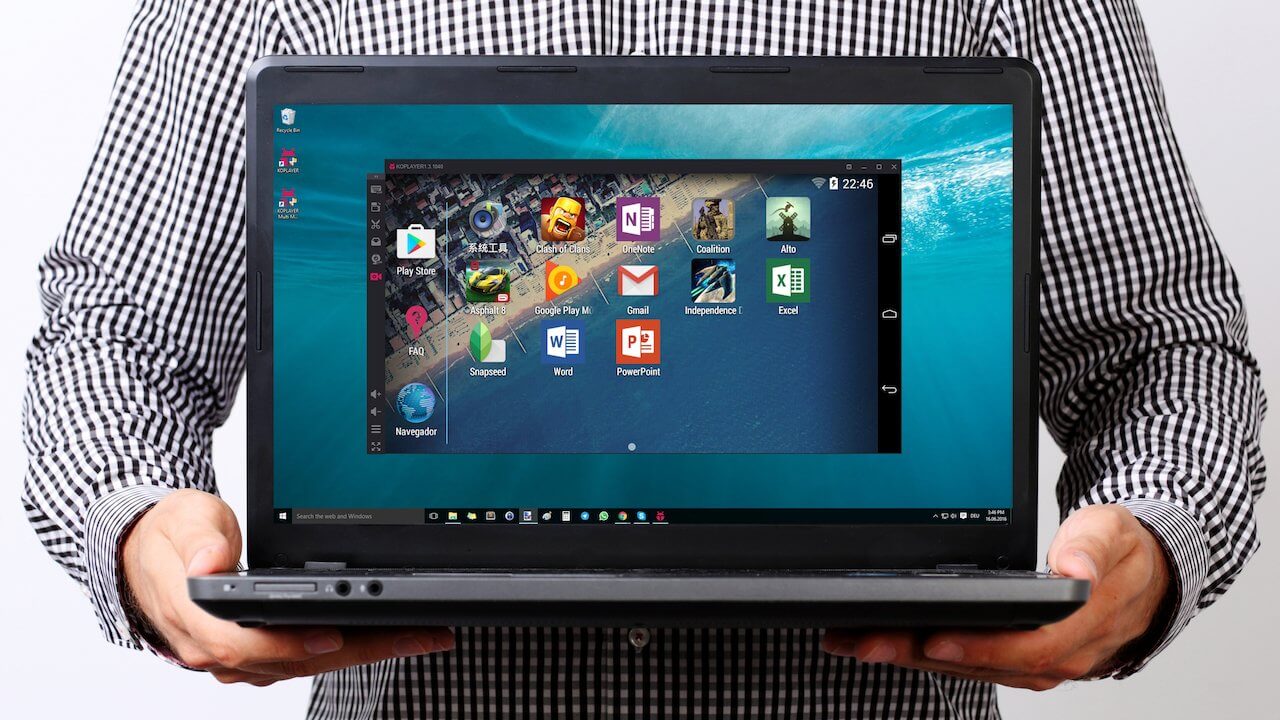 Koplayer's latest version, 1.4.1055 was last updated and offered with a smaller size (it is still 310 mega bytes though)  at the beginning of 2017 and can be downloaded from the link here ( http://www.koplayer.com/ ).  It comes with optimized home screen, app center,  some more fixes and smoother game performance, according to the releaser.
Koplayer has a very plain and simple home page much like that of Bluestacks but comes with only a few basic apps such as Gallery, Music, Settings (not full of ads and sponsored games unlike it), and supports both windowed and full screen use. In terms of game performance, its need and use of computer hardware, it is better than its competitors such as Bluestacks, Andy, Genymotion etc.  Koplayer's performance is optimized for games, so you can easily play demanding games such as Asphalt series on your PC without much performance issues.
Minimum system reqirements for Koplayer:
Windows XP SP3 (32 or 64 bits)
Windows Vista (32 or 64 bits)
Windows 7 (32 or 64 bits)
Graphic card supports OpenGL 2.0.
CPU supports VT-x or AMD-V virtualization which can be opened in BIOS. 512MB memory.
3GB hard disk space to install KOPLAYER, and sometimes may need 8GB or more depending on applications you installed in the virtual machine.
1024×768 system screen resolution
Koplayer is free and needs more features and improvements in the future. Though we don't know whether it will have in the near future all the features its alternatives have,  it is still a good and easy to use emulator for the fans of thousands of Android games who also would like to play them on Windows and Mac and for those who are beginners to Android emulators.