April 20, 2019
MEmu Android Emulator (MEmu App Player)
If you want to play your favorite Android games or use your favorite Android applications on your PC for any reasons, here is another emulator alternative for you: MEmu Android Emulator, also known as MEmu App Player, by Microvirt, is a relatively new and free Android emulator from Chinese developers used by around 20 million people around the world with its support of 15 languages. It can run on almost all Windows devices (PC, notebook, 2-in-1 devices, tablets); yet, unlike the most of its rivals, it is not compatible with devices with Mac operating system.  Compared to other Android emulators, MEmu, most of the time, gives a better performance and offers greater compatibility.  Memu Android Emulator has a much better Antutu benchmark score than almost all other Android emulators, and has almost 1,5x greater performance than latest Android flagship smart phones and tablets such as  Galaxy S7 or Galaxy Note 6 because it effectively makes use of X86 processors whenever possible.
Let's list some of the best things you can do with Memu App Player's features:
Live a full Android experience with a simple and good looking desktop
You can optimize with numerous customization options (CPU, memory size, resolution, , navigation bar location,  device model root mode and so on…)
You can map the keyboard / joystick to screen touch for a more fun game experience
It can receive sensor data such as accelerometer,  thus you can play games like car-racing more intuitively on a Windows tablet device.
You can simulate GPS location
You can share files between Android and Windows
You can install apps by dragging and dropping from your Windows PC or from Memu App Market which mostly showcases Chinese trends or from Google Play by signing up with you gmail account.
You can create / clone / delete, and you can run multiple Android instances simultaneously in seconds.
System requirements for Memu are not a lot, you will get better results if your system is more powerful.  Here are the system requirements:
System Requirements:
Windows Vista/Windows 7 SP1/Windows 8.1/Windows 10
Intel or AMD CPU (with Virtualization Technology support preferred)
GPU with OpenGL 2.0+ support
At least 1 GB free system memory
At least 2 GB of free disk space under installation path
Note: It's not recommended to run MEmu App Player in another virtual machine software.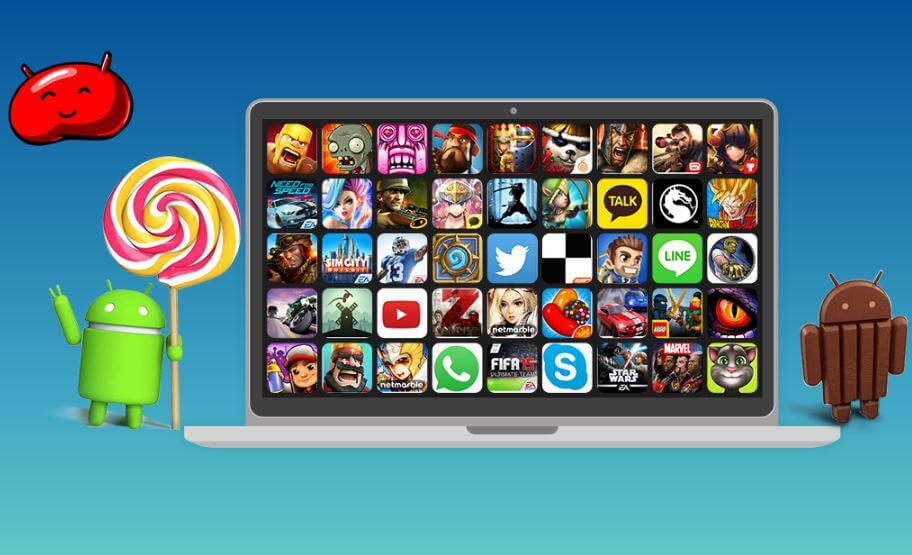 A great advantage of Memu emulator is that you can use any or all of the Android Jelly Bean, Kit Kat and Lollipop versions with this emulator.  Lots of other emulators do not provide you this option and many uses only Android Kit Kat kernel. You are also able to change the brand, model, IMEI, map location, screen orientation, and get screen shots, shake the screen, zoom in and out, multi touch (in Windows tablets), set keyboard / joystick mapping, import and export data etc.
Another unique feature of MEmu App Player is that it also has a portable version so you can copy it to your flash disk, take wherever you are and use it in different Windows computers without installation.
Installation of the stable version of Memu is quite easy; download and double click to the setup file, that's it. It has a home screen UI similar to Nox App Player with its tool box at the right side. Here you can make lots of adjustments and customizations.
Almost all the games on Google Play are compatible with Memu and they all run smoothly. MEmu supports all resolutions so you can enjoy playing on big screen with high-resolutions as long as the game you will play supports it.
Multiplayer mode is also easy to start and use, and you can create and use multiple instances at once; You change CPU or RAM allocations accordingly. (For increasing the number of CPU core, hardware virtualization feature should be enabled on your PC) For better performance in games, you can also enable Virtual Technology (Intel VT or AMD V) from your BIOS settings. You can also assign virtual memory if you think you don't have enough RAM and get a better performance from games.
MeMu is a great choice for an Android experience on Windows desktops, laptops and tablets and has superior qualities to its competitors like Bluestacks, Andy, Genymotion etc. If you need an Android emulator, it is worth giving a chance to it.